Are you having problems getting to sleep at night? Then you may need to work a little harder in order to make sure you're drifting off to dreamland in an environment that is ideally crafted for the best possible rest. Sure, that all sounds really complicated, but it's actually not that hard to do. And you can start by treating your sleeping space with a simple aromatherapy spray.
One of our favorite aromatherapy sprays here at Product Critic, especially for bedtime use, is a little something called Dream Elements Calming Pillow Spray. You can spritz it on your pillow at night, and enjoying the fragrant aromas of the essential oils infused into the product. It'll help you fall asleep faster, sleep more deeply through the night, and wake up feeling refreshed and ready to start your day.
Ingredients in Dream Elements Calming Pillow Spray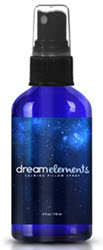 What makes Dream Elements Calming Pillow Spray so effective and relaxing? The answer lies in the ingredients. It's infused with five different essential oils that not only smell great, but they've been used for hundreds and thousands of years in order to help people sleep better.
These unique oils come from all corners of the Earth, and from a variety of different, colorful plants as well. Some of these plants are so revered by their native cultures that they are even considered sacred.
Lavender oil - the purple petals of the lavender plant exude a sweet scent that is known to promote relaxation
Chamomile oil - chamomile has been used for centuries to calm the mind and help reduce anxious thoughts
Orange oil - the clean, crisp scent of orange oil helps you feel relaxed in the evening, and refreshed and ready to start your day the next morning
Vetiver oil - vetiver oil comes from the leaves and roots of a fragrant grass native to india and many other parts of South Asia. It is often considered sacred by native peoples
Ylang Ylang oil - this Malaysian and Filipino tropical tree is known as "the flower of flowers" by the indigenous people who inhabit the region where it grows
From the Mediterranean to the Philippines, from Southeast Asia to Northern Africa, and even in the tropical regions where Citrus grows best, the makers of dream Essentials calming pillow spray has sourced the finest and most potent essential aromatherapy oils to help you have a pleasant, restful Slumber each and every night.
Dream Elements Calming Pillow Spray Review
During our evaluation of Dream Elements Calming Pillow Spray, we gave out samples to a group of people made up of men and women of various ages. The majority of them reported having trouble falling asleep at least one to two nights per week, with many of them complaining of sleep disturbances as often as five to seven times per week.
We received a lot of positive feedback from the participants of our study. There was 100% satisfaction with the calming spray's aroma, even amongst male participants and the elderly. Over 76% of respondents told us that it took less time for them to fall asleep at night, and 82% of our test subjects reported feeling that they were more rested when they woke up the next morning. Even those on the far end of our spectrum who reported feeling sleepless almost every night told us that this difficulty dropped down to 2 - 3 nights a week, on average.
Our Rating for Dream Elements Calming Pillow Spray
Based on our impromptu study, and our own personal experiences with the product on the editing staff, we here at Product-Critic.com highly recommend the Dream Elements Calming Pillow Spray. The aroma is so pleasant that it is universally loved, and many of its users not only fall asleep faster at night, but they stay asleep for longer and get a higher quality level of rest.
Where to Buy Dream Elements Calming Pillow Spray
Currently, you cannot buy Dream Elements Calming Pillow Spray in retail stores. While this may present some inconvenience, it's actually good news for your wallet. Retail stores, where you have to drive there and buy something in person, usually slap an expensive markup on the products they sell. Plus, it takes time to drive there and gas to fuel your car, which adds an extra expense to the purchase. However, there are several online retailers who are more than willing to sell you the Dream Elements Calming Pillow Spray at an affordable price.
Can You Get Dream Elements Calming Pillow Spray at CVS?
As stated previously, you cannot by the Dream Elements Calming Pillow Spray at retail drug stores like CVS - not even through their online store. They may have other bedtime essential oil sprays for sale at their locations, but it is hard to know for sure whether or not those sprays are as effective as the Dream Elements Calming Pillow Spray.
Can I Buy Dream Elements Calming Pillow Spray from Walgreens?
Walgreens is another vendor that does not currently carry the Dream Elements Calming Pillow Spray on their shelves. And, unfortunately, it doesn't offer this spray through their online shopping portal, either. But as we said already, this means that you don't have to pay a high retail mark-up in order to get this fragrant, relaxing spray - which is good news.
Is Dream Elements Calming Pillow Spray Available Through Wish?
As a matter of fact, yes it is! But you're going to have to act fast, as with all Wish deals. There is a time limit on the availability of this deal, as well as a limited supply of the Dream Elements Calming Pillow Spray available for purchase. If you're interested in this deal, go ahead and visit the Wish store page.
Can I Get Dream Elements Calming Pillow Spray from the Amazon Marketplace?
You can also purchase the Dream Elements Calming Pillow Spray from Amazon. You can take advantage of Amazon Prime to get great deals on expedited shipping and may even be able to come by and your order with other Dream Elements sleep products.