MemoProve claims to be the first and only once-a-day tablet for people suffering from short term memory and concentration problems. The site stresses that the product is for mild suffers, indicating that it may not work so well for people with attention-deficient disorder (ADD) and attention-deficit hyperactivity disorder (ADHD).
Memoprove allege that it can be used by otherwise healthy adults who are having trouble remembering names, appointments, or who keep misplacing things like car keys, remote controls. Students who are having issues because of stress or heavy workloads are said to benefit from using MemoProve as well.
Besides being a once-a-day pill, what else does MemoProve provide that supposedly places it ahead of the rest other memory enhancers?
About MemoProve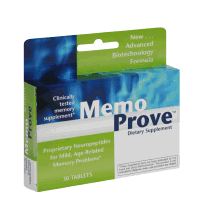 One of the more positive statements that can be found about MemoProve is that it contains no stimulants or caffeine, artificial colors, herbs, yeast, sugar or preservatives, a real concern for people who have had bad reactions from those kinds of ingredients. It has no known drug interactions.

The makers of MemoProve also state that the product can significantly increase memory, alertness and concentration with a patented blend of neuropeptides. These heralded neuropeptides come from what they euphemistically state is a natural source of protein.

That source is porcine, meaning it comes from pigs i.e. pork.
Memoprove Ingredients
Yes, the primary ingredient in MemoProve is pork. How exactly anything pork related can help with memory function is not very clear. This fact could be a turn off for those who do not eat meat or pork, whether for religious, health or personal reasons.
Other ingredients include: Lactose, Cellulose, Magnesium Stearate, Silicon Dioxide, Enteric Coating.
MemoProve Final Thoughts
Memoprove's differentiating ingredient is neuropeptides. While neuropeptides do have a role in the memory process, dietary amino acids are broken down in the digestive process and do not reach the brain intact.
The MemoProve website appears to be heavy on pseudo-science, and light on the facts that concern consumers the most. We feel the source of the neuropeptides, pork, should have been more readily apparent.
Due to these factors, MemoProve was given a do not buy recommendation.